By D.J. PANDER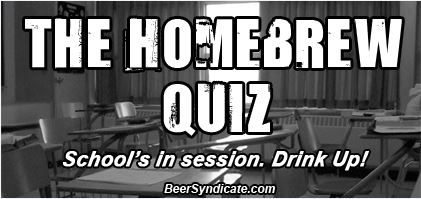 Last time we tested your Beer IQ with THE BEER QUIZ. This time, we're challenging your homebrewing knowledge with The Homebrew Quiz.
Just like before, there are three levels to The Homebrew Quiz: Normal, Challenging, and Hard.
It's recommended that you begin with the Normal Homebrew Quiz, and then proceed from there, however all three levels are provided below.
Good luck.
THE HOMEBREW QUIZ (CHALLENGING)
[Special thanks to Daniel J. Leonard for his collaboration and technical assistance on this project.]
---
Like this blog? Well, thanks- you're far too kind.  Want to read more beer inspired works?  Come back any time, subscribe to our RSS feed or follow us on Twitter or share this link:
Hi, I'm D.J. Pander.  I like beer.  I also blog.